Elianware x HomePerfect Non Stick Pan (28cm) Virgo Leaf
---
---
G-Points

Buy and earn

135

Points
---
| | |
| --- | --- |
| Brand: | Elianware |
| SKU: | HP-VL28 |
| Item left | 100 |
---
---
Weight

5.00

Kg
Shipping

Gvado Standard Delivery
---
---

ONLY release payment to the merchants after the items were received by the buyers.
Share



Ratings
Size : Ø28cm (Pan) with 3mm thick aluminium bottom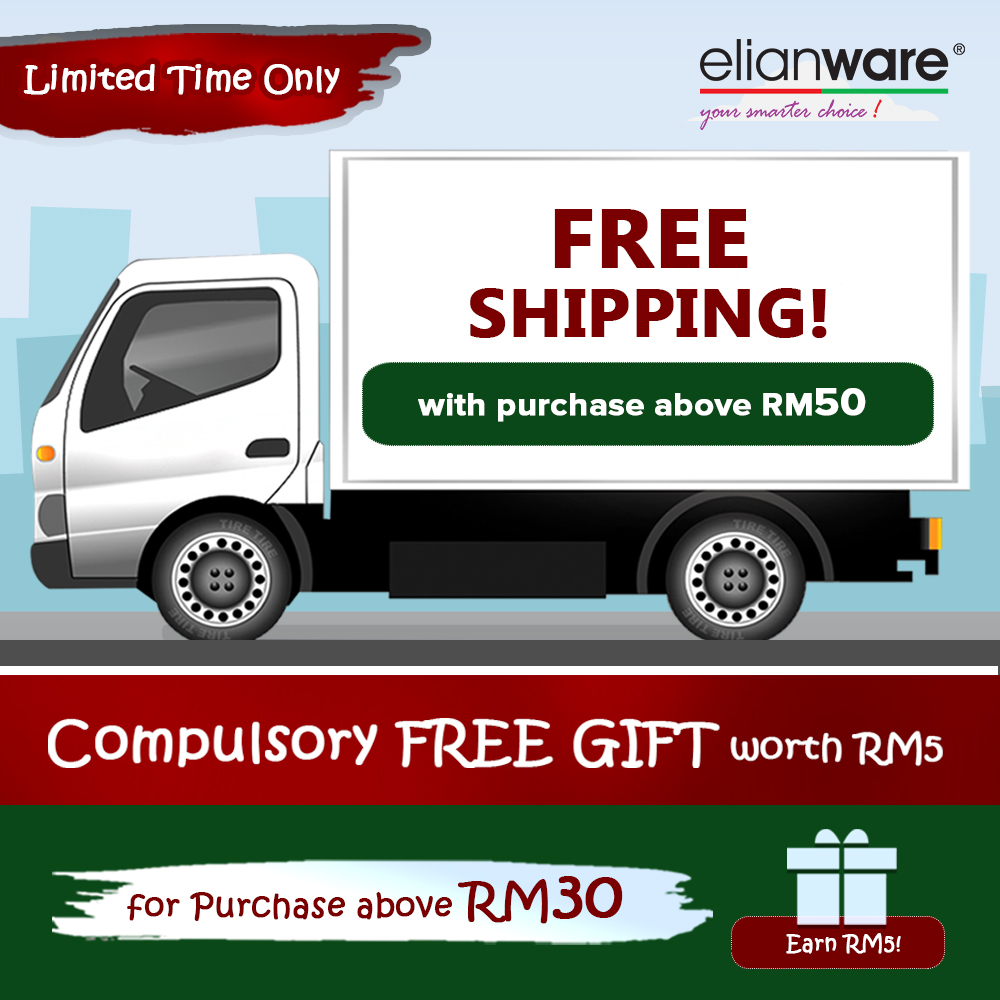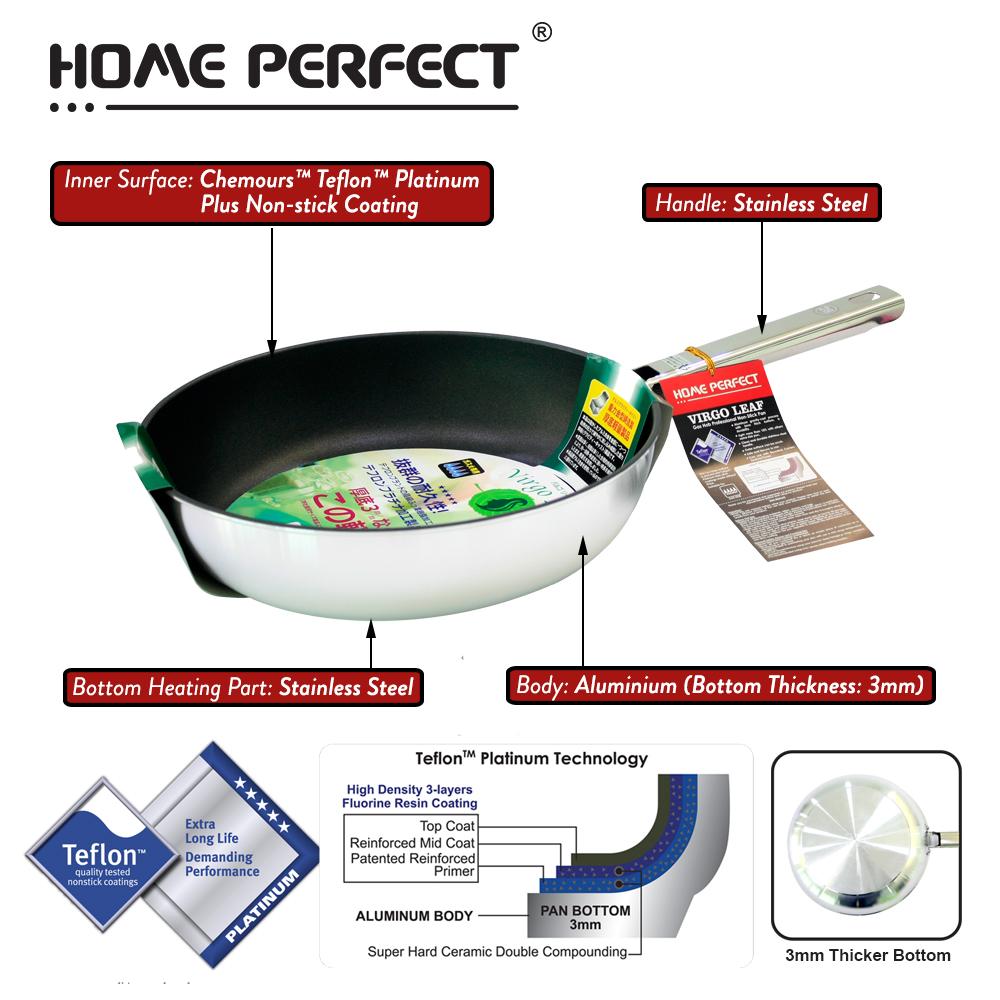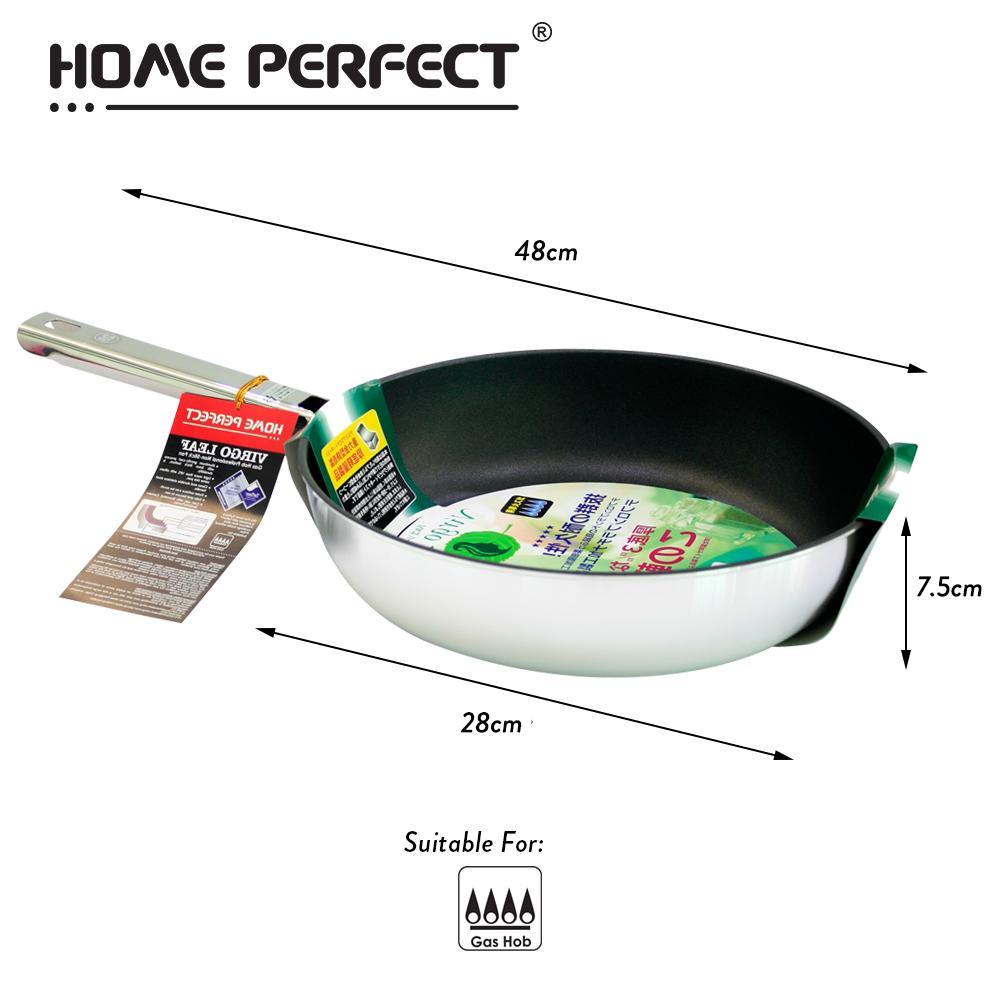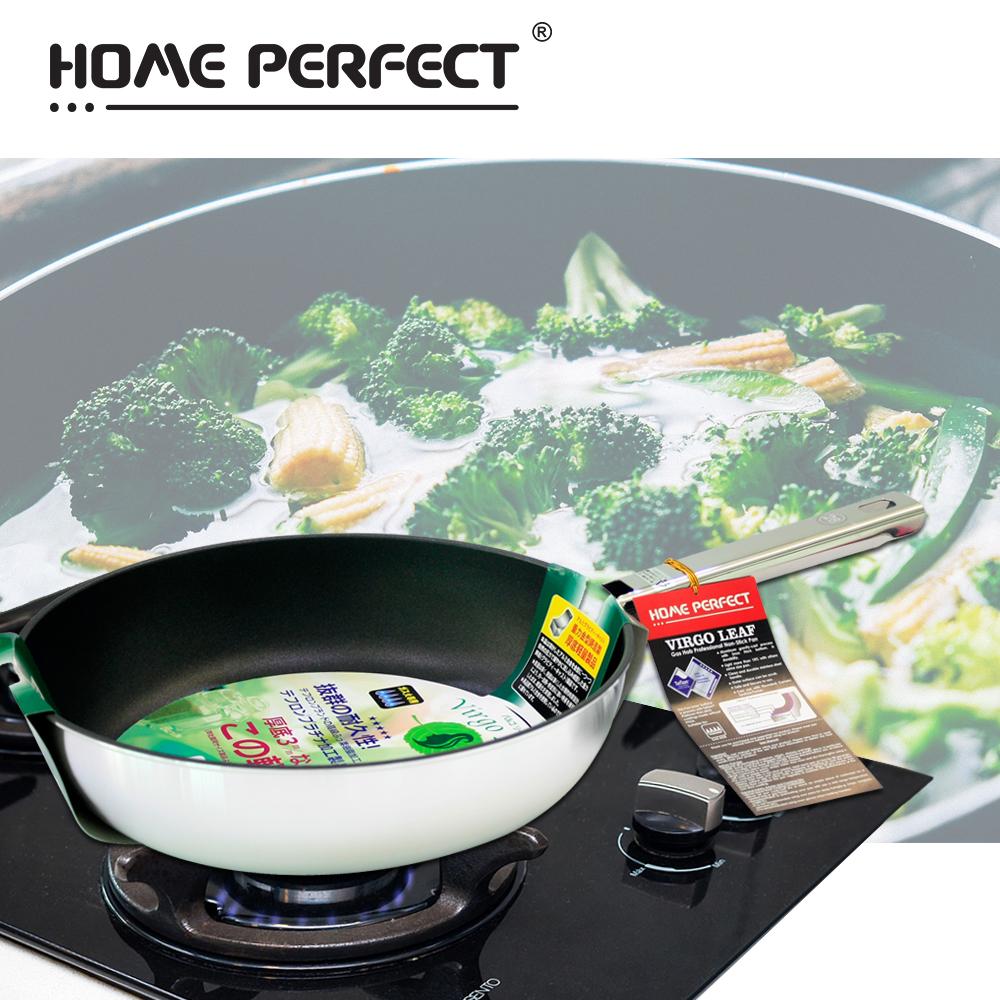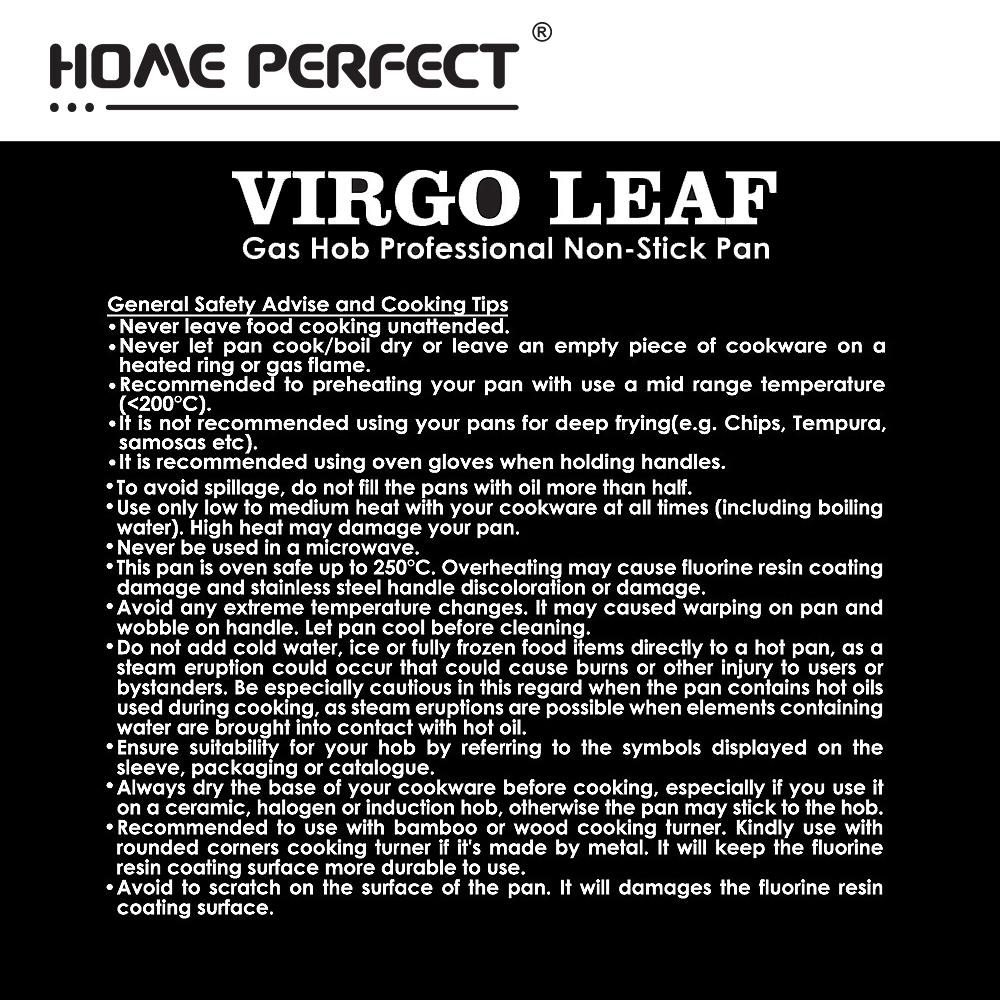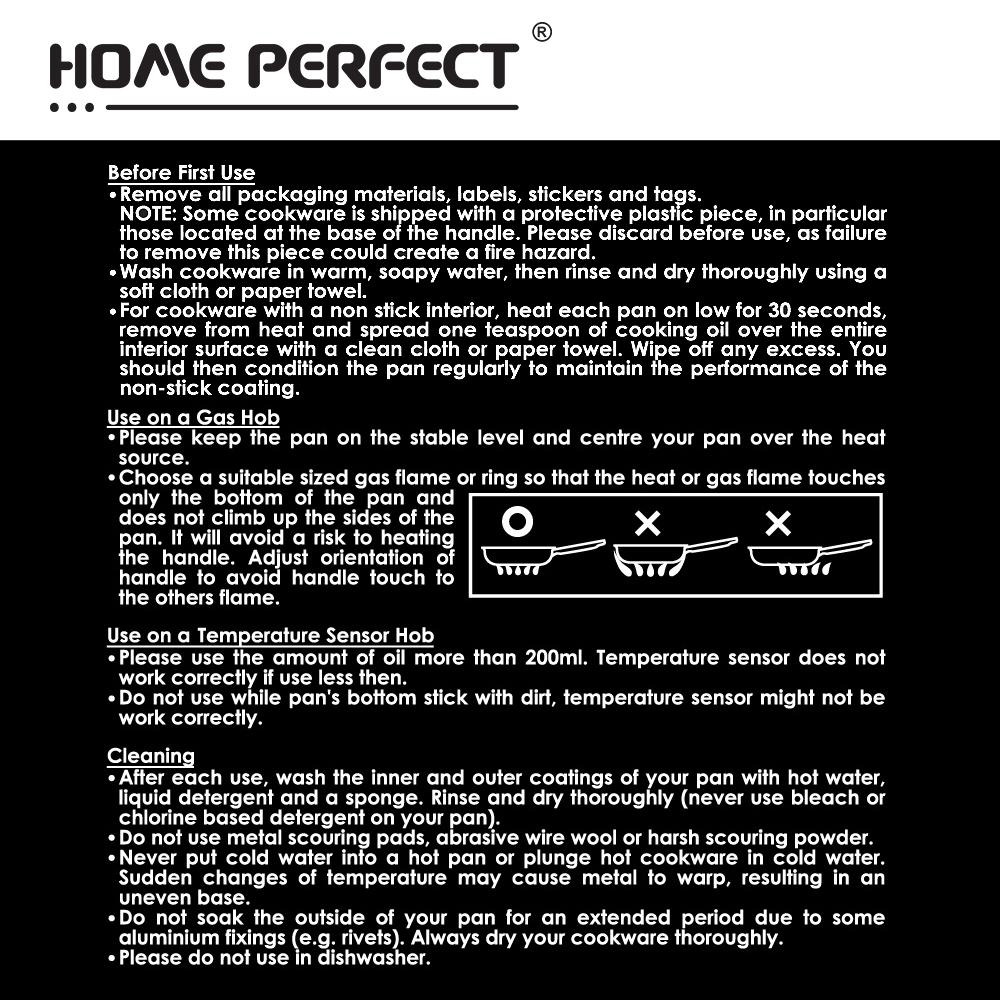 General Safety Advise and Cooking Tips

Never leave food cooking unattended.
Never let pan cook/boil dry or leave an empty piece of cookware on a heated ring or gas flame.
Recommended to preheating your pan with use a mid-range temperature (<200°C).
It is not recommended using your pans for deep frying (e.g. Chips, Tempura, Samosas etc.)
It is recommended to use oven gloves when holding handles.
To avoid spillage, do not fill the pans more than two-thirds full.
Use only low to medium heat with your cookware at all times (including boiling water). High heat may damage your pan.
Never be used in a microwave.
This pan is over safe up to 250°C. Overheating may cause fluorine resin coating damage and stainless-steel handle discoloration or damage.
Avoid any extreme temperature changes. It may cause warping on pan and wobble on handle. Let pan cool before cleaning.
Do not add cold water, ice or fully frozen food items directly to a hot pan, as a steam eruption could occur that could cause burns or other injury to users or bystanders. Be especially cautious in this regard when the pan contains hot oils used during cooking, as steam eruptions are possible when elements containing water are brought into contact with hot oil.
Ensure suitability for your hob by referring to the symbols displayed on the sleeve, packaging or catalogue.
Always dry the base of your cookware before cooking, especially if you use it on a ceramic, halogen or induction hob, otherwise the pan may stick to the hob.
Recommended to use with bamboo or wood cooking turner. Kindly use with rounded corners cooking turner if it's made by metal. It will keep the fluorine resin coating surface more durable to use.
Avoid to scratch on the surface of the pan. It will damage the fluorine resin coating surface.
Before First Use
Remove all packaging material, labels, stickers and tags.
NOTE: Some cookware is shipped with a protective plastic piece, in particular those located at the base of the handle. Please discard before use, as failure to remove this piece could create a fire hazard.
Wash cookware in warm, soapy water, then rinse and dry thoroughly using a soft cloth or paper towel.
For cookware with a non-stick interior, heat each pan on low for 30 seconds, remove from heat and spread one teaspoon of cooking oil over the entire interior surface with a clean cloth or paper towel. Wipe off any excess. You should then condition the pan regularly to maintain the performance of the non-stick coating.
Use on a Gas Hob
Please keep the pan on a stable level and center your pan over the heat source.
Choose a suitable sized gas flame or ring so that the heat or gas flame touches only the bottom of the pan and does not climb up the sides of the pan. It will avoid the risks of heating the handle. Adjust orientation of handle to avoid handle touching the flame of other gas hob.
Use on a Temperature Sensor Hob
Please use the amount of oil more than 200ml. Temperature sensor will not work properly if use less than 200ml.
Do not use if pan's bottom is stuck with dirt; as temperature sensor might not work correctly.
Cleaning
After each use, wash the inner and outer coatings of your pan with hot water, liquid detergent and a sponge. Rinse and dry thoroughly (never use bleach or chlorine-based detergent on your pan).
Do not use metal scouring pads, abrasive wire wool or harsh scouring powder.
Never put cold water into a hot pan or plunge hot cookware in cold water. Sudden changes of temperature may cause metal to warp, resulting in an uneven base.
Do not soak the outside of your pan for an extended period due to some aluminum fixings (e.g. rivets). Always dry your cookware thoroughly.
Please do not use in dishwasher.