江鱼仔粉 Anchovy Powder
---
---
| | |
| --- | --- |
| SKU: | Jia Xiang 04 |
| Item left | 6 |
---
---
Weight

1.00

Kg
Shipping

Gvado Standard Delivery
---
---

ONLY release payment to the merchants after the items were received by the buyers.
Share



Ratings

江鱼仔粉 (净100g)
• 全邦咯岛名产,鲜甜的白江鱼仔。100%纯天然无加工 品质保证的岛上海产。
• 经实验室营养化验保证
适用于:辅食品、粥、日常烹饪、煲汤炒菜、清蒸料理
Anchovy Powder (net weight:100g)
• Fresh and high quality anchovy from the island.
• Homemade, 100% natural and non-processed.
• Nutritional ingredients have been tested in the laboratory.
• Can be added to your baby's complementary food to increase nutrient absorption.
Suitable for: baby's complementary food, soup, porridge, home cooking, seasoning

我们的调味粉是100%纯原料自家研磨制作而成。
不添加任何盐,不含味精MSG,不含添加剂
所以妈妈们烹调时,是有必要依据自己的口味添加适量的盐或味精。

• 6个月的宝宝就可以开始少量食用,分量随着成长慢慢增加
•方便携带出游,宝宝/家人们随时都可摄取到营养
•只选用上等,用最纯的原料研磨制成
•选用上等白江鱼,内脏已全去除/上品花菇/鲜美干贝/精选虾米
•传统传承制作法,卫生条件佳的环境里天然阳光晒干,再稍微烘干。香味更持久于直接烘烤,营养不流失。
•除了妈妈,也是孩子们成长不可缺少的营养来源
•所有天然营养调味粉不含任何味精 & 盐
•家香海产天然营养调味粉的自制范围卫生讲究,不含任何方式掺假,不含防腐剂和其他化学品,零添加剂保证
• 特浓江鱼仔粉已混合海盐调配,推荐给重口味或速食火锅汤底,不适合宝宝食用

保存方法:
勿置于高温潮湿处,请使用干净的匙提取、密封并冷藏。开封后冷冻保藏1年,只要没发霉都是没问题,必须冷藏保存才能确保食品鲜美度。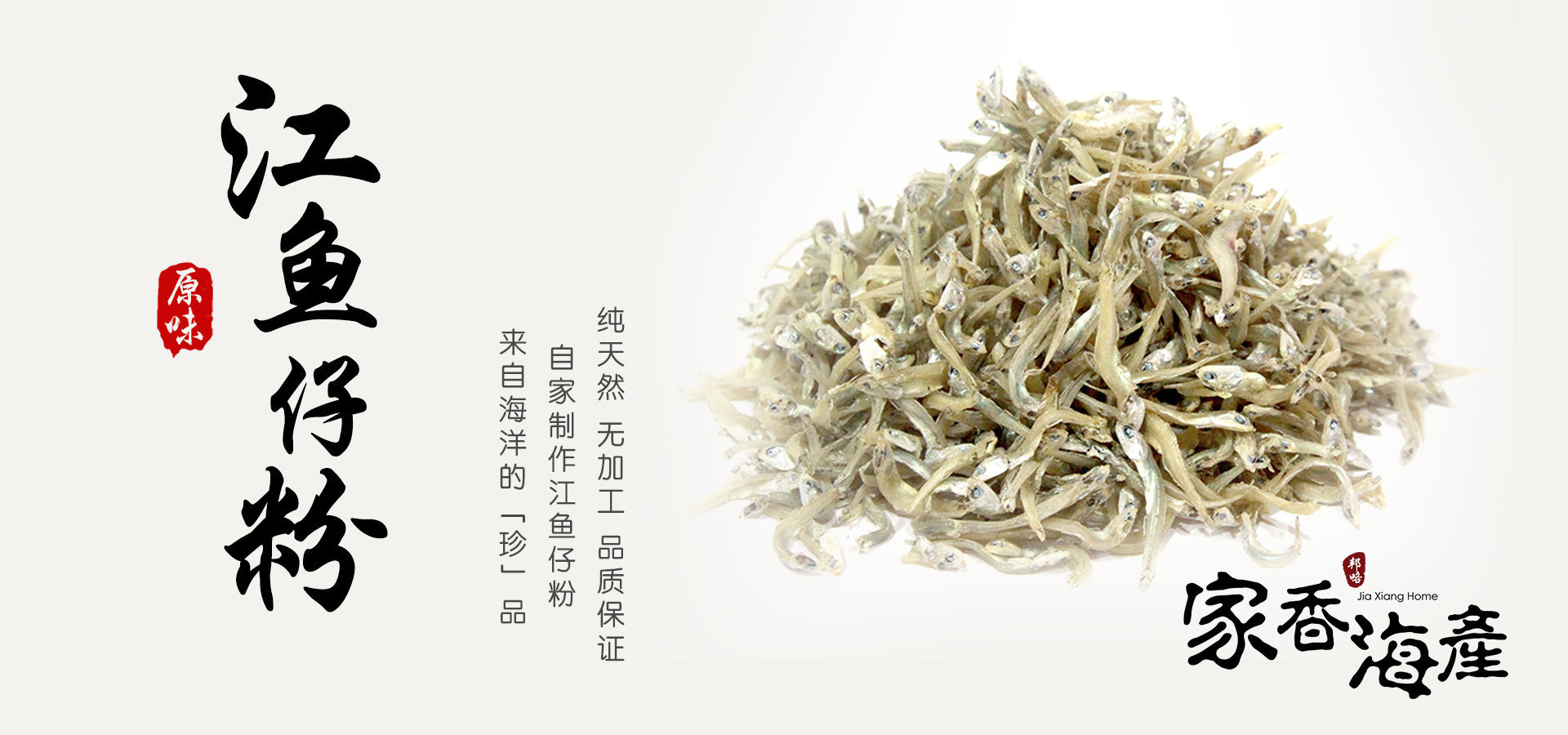 Our seasoning powder is made from 100% pure raw materials. No added salt, no MSG , no additives Therefore, when mothers cook, it is necessary to add the right amount of salt or MSG according to their own taste.

• A 6-month-old baby can start eating in small quantities, and the weight gradually increases with growth.
• Easy to carry out, baby/home people can get nutrition at any time
• Use only the finest, ground with the purest raw materials
• Choose the best white anchovy, the internal organs have been completely removed / top quality mushrooms / delicious scallops / selected shrimp
• Traditional inheritance production method, natural sundried in the environment with good sanitation, and then dried slightly by oven. The scent is more durable than direct baking, and the nutrition is not lost.
• In addition to mothers, it is also an indispensable source of nutrition for children.
•All natural nutrition seasoning powder does not contain any MSG & salt
• The home-made range of our pure food powder is hygienic, does not contain any method of adulteration, contains no preservatives and other chemicals, zero additive guarantee
• The rich anchovy powder has been mixed with sea salt, recommended for heavy taste or instant hot pot soup base, not suitable for baby food

: preservation method :
Do not expose to high temperature and humidity, use a clean spoon to extract, seal and refrigerate. After unsealing and frozen storage for 1 year , as long as no mold. Remember to refrigerate to ensure the freshness of the food.