Ratings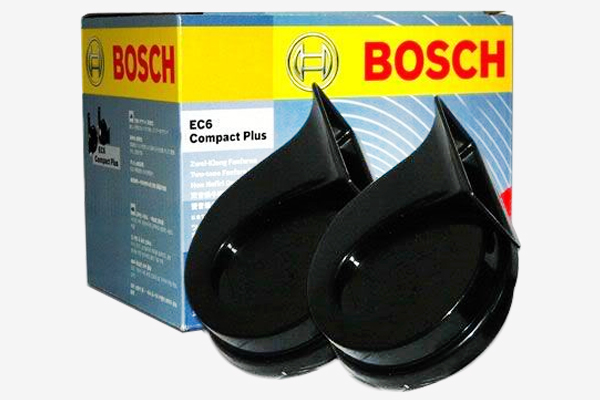 Bosch offers a complete program of horns that covers with all the applications of the vehicle park
from motorcycles up to autobus. Bosch horns are highly resistant to the corrosion and impurities
of the environment, delivering an excellent quality of sound and power united to high performance.
BRAND NEW set of Bosch EC6 Compact Plus Two Tone Horn!

Original Bosch!

Made In Turkey!

110dB(A)

Doesn't require a relay.

Long Life & Reliability.

Strong Sound – Audible Safety.

Bosch OE Quality: Elegant BMW Sound.

Always a strong and clear tone, even under tough conditions.

For passenger car – optimal performance in urban & overland traffic.

Homologated according to ECE standard and designed according to OE specifications.

Membrane filter technology for increased performance and protection against corrosion, dirt & humidity.
Specifications
Voltage = 12V

Frequency: High tone = 500 Hz, Low tone = 400 Hz

Sound pressure = 110 dB (A)

Size = Compact