Korean Dried Oyster Size SS 太阳菊韩国蠔干 SS (1x100g)
---
---
| | |
| --- | --- |
| SKU: | Size SS |
| Item left | 56 |
---
---
Weight

0.20

Kg
Shipping

Gvado Standard Delivery
---
---

ONLY release payment to the merchants after the items were received by the buyers.
Share



Ratings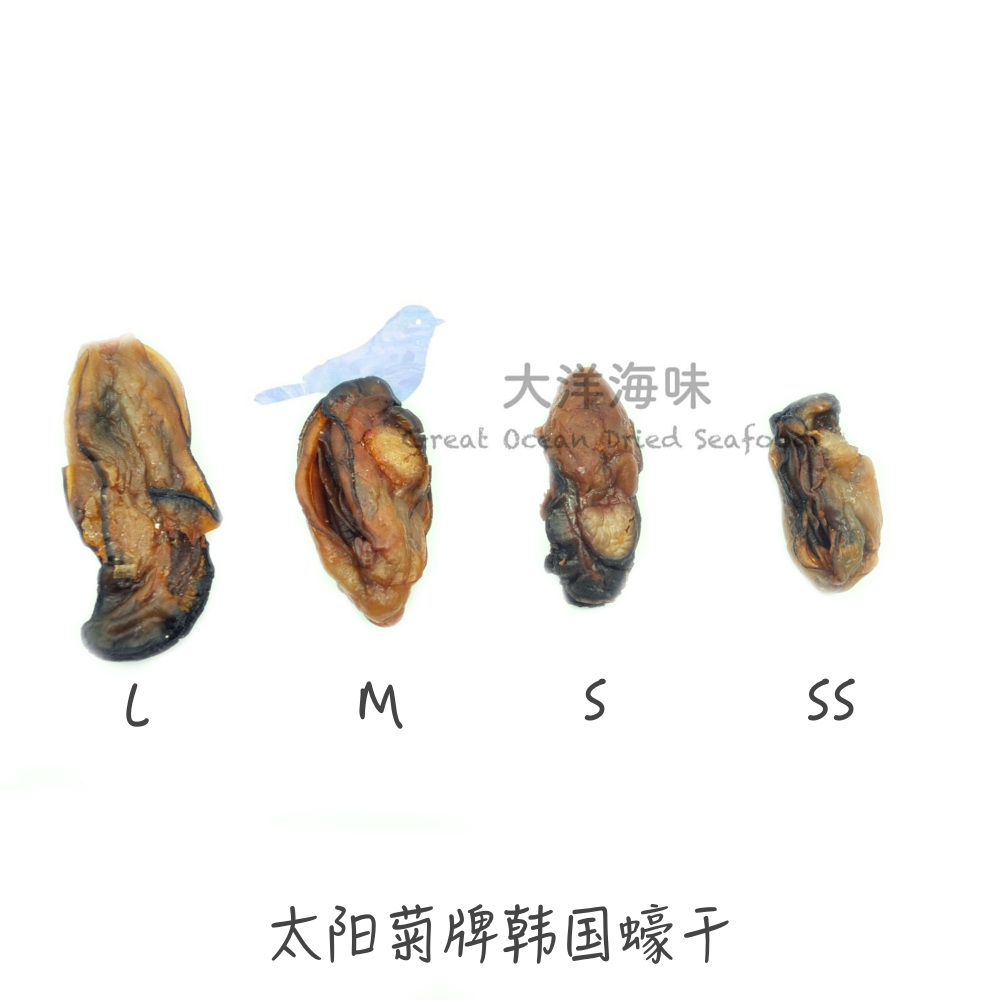 韩国蚝干
进口:韩国
大小:SS
重量:100g/300g/500g
韩国蚝干大小:L>M>S>SS
食用蚝干的好处:
蚝干为海鲜中的一种,其营养价值与功效是首屈一指,它不仅有益胃生津,还有清肝解毒的功效。其含有丰富的锌,是所有食物中含锌量最高的,是公认具有补肾壮阳之效的食物。
蚝干是由生蚝晒制而成,其营养价值更是不容小觑的,蚝干所含的蛋白质中有多种优良的氨基酸,这些氨基酸有解毒作用,可以除去体内的有毒物质,其中的氨基乙磺酸又有降低血胆固醇浓度的作用,因此可预防动脉硬化。而且蚝干中含有大量的锌,特别适合哺乳期的产妇食用,还能够起到促进宝宝生长发育的作用!
蚝干的副作用:
1、产后人群应忌食或少食。
2、患有急慢性皮肤病者忌食。
3、脾胃虚寒,慢性腹泻便溏 者不宜多吃。
4、生蚝干不能和啤酒同食,会引起痛风。
5、生蚝干不能和芹菜同食,会降低锌的吸收。
如何存放:
须放在冰箱的冷藏室以防止蚝干发霉。
Korean Dried Oyster
Imported from Korea
Size:SS
Weight:100g/300g/500g
Size of Dried Oyster:L>M>S>SS
What are dried oysters?
This delicacy is popular during Chinese New Year for Cantonese because its name, 蠔豉 (hou4si6), sounds like 好事 (hou2si6), which means good deeds, good fortune, or prosperity.
They can be added to soups, stir fried, or braised in a casserole.
How do I select dried oysters?
The best dried oysters are plump ones from Japan and Korea.
Medium sized ones should be oval shaped, brownish color, plump and still moist.
Smaller sized ones are usually drier and varies in color either reddish-brown or brown (due to origin). Add these in soup for extra flavor.
Dried oysters should have a strong seafood smell.
How do I prepare it?
Rinse to remove excess salt and grit.
Before cooking, soak in water for at least half an hour or until soft (2-4 hours depending on size and quality).
You can reserve the soaking liquid for cooking, but make sure to strain the grit sediment.
How do I store it?
Keep refrigerated to maintain freshness and prevent molding.