Ratings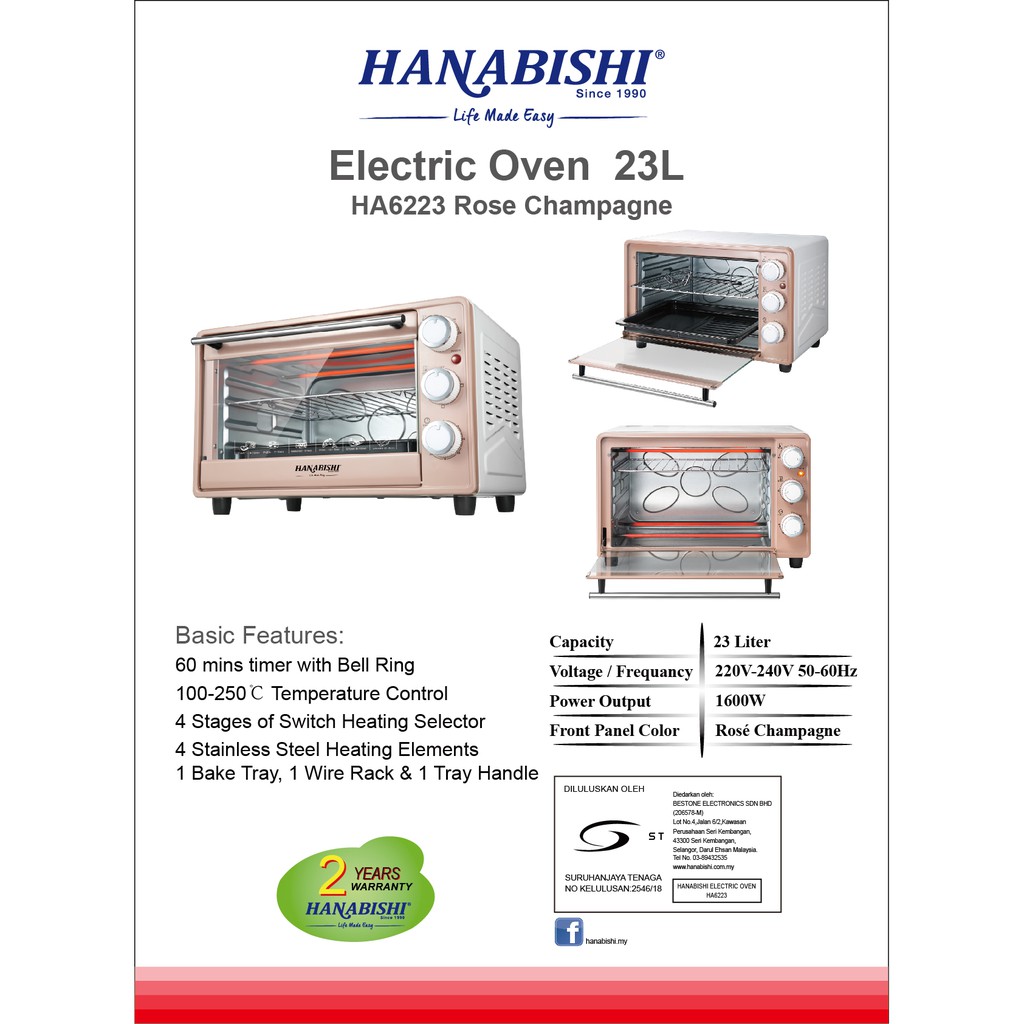 Get Closer to Your Dream Kitchen with Hanabishi's Electric Oven 23L-HA6223 Rose Champagne!
Whether it's for a Perfect Bake or Perfect Roast, Hanabishi's Latest Oven gets you the Results Automatically and Gently. It is a Perfect Solution when it comes to Safety, Convenience and Capacity. The Oven Delivers Optimal Cooking Performance with its Range of Modern Features. Discover Now!
Product details of Hanabishi Electric Oven HA6223
Power : 1600W
Capacity : 23L
60 Minutes Timer with Bell Ring
100C-250C Temperature Control
4 Stages of Swtich Heating Selectors
4 Stainless Steel Heating Elements
Tempered Glass Door with Stainless Steel Holder
1 x Bake Tray, 1 x Wire Rack, 1 x Tray Handle Included
4 Stainless Steel Heating Elements
Baking made easy with Electric Oven HA 6223 Rose Champagne by Hanabishi. With the capacity of 23 litres, it is capable of baking cakes and pastry as well as roasting chicken and beef. It is designed with an adjustable temperature control.
Gorgeous Design
The exterior of this electric oven has an elegant design and it's Rose Champagne color on the front panel that is pleasing to the eye, and its body is both anti-rust and stainless steel. Entertain a number of guests when you use its ample capacity and high power to roast or grill. The oven has 4 heating elements to ensure an all-round cooking – heating, baking, toasting, and grilling - so you can choose the appropriate settings for your dish.
Temperature
If you're thinking of baking a cake or that perfect pie, there's no need to head for the conventional oven since this oven can cook them too: its temperature control runs from 100 to 250 degrees. As an added bonus, this electric oven does not emit harmful waves and is engineered to retain the natural tastes and nutrients present in the food you cook.
Versatility in culinary
Ideal for roasting or grilling large poultry, this oven is also suitable for toasting or baking pastries and cakes.
What's in the box:
Hanabishi Electric Oven HA 6223 x1, Tray x1, Wire Rack x1, Tray Handle x1
Warranty type Local Manufacturer Warranty (Buyer to send to Hanabishi HQ or Service Centers)
Model HA6223
Size (L x W x H) 45 x 36 x 29
Warranty period 2 Years
#HanabishiMalaysia
#Hanabishi #myhanabishi
#Oven #Baking #Roasting
#HanabishiMalaysia #LifeMadeEasy
#PerfectBaking #PerfectRoasting
#ElectricOven23L #RoseChampagne