Ratings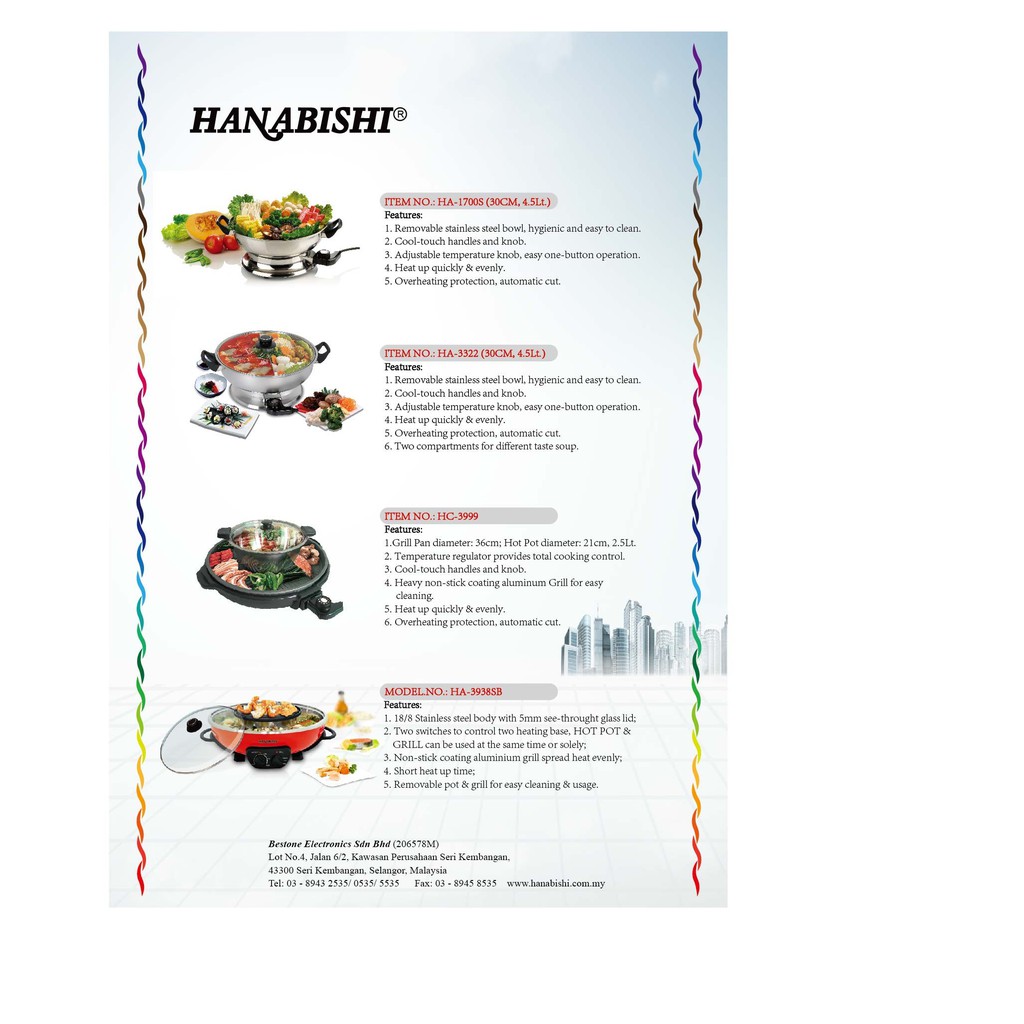 Power : 1500W
Bowl Capacity : 2.5L
High Quality 304 Stainless Steel Bowl with Tempered Glass Lid
Non-Stick Grill Pan
Temperature Control Knob
Cool Touch Handle
Detachable Grill Pan
Easy To Clean
Are you in need for a new steamboat or teppanyaki station for your new kitchen?
We're presenting this amazing product by Hanabishi, Teppanyaki & Steamboat HC 3999! This steamboat AND teppanyaki station in one awesome product and it'll make cooking a much pleasant session of the day. This is definitely one gift you should buy for you and your family!
Multifunctional Cooker
Teppanyaki & Steamboat HC 3999 by Hanabishi is the ideal steamboat and teppanyaki station to complete your kitchen. Not only does it save space, there's no need for you to purchase stove and bowl separately and it is also easy to use. Plus, you can use it either for some steamboat or teppanyaki! With the Hanabishi's Teppanyaki & Steamboat HC 3999 you can have steamboat & teppanyaki-time with your family and friends!
EASY OPERATION
The Hanabishi's Teppanyaki & Steamboat HC 3999 has an easy to use thermal control knob that can be adjusted according to your cooking needs. Its indicator light will also alert you when the desired temperature is reached so you don't have to monitor it frequently.
FUSS-FREE
An added plus point for those who dislike cleaning dirty pots or attending to dirty dishes. This multi-function cooker is detachable; the bowl is removable for easy cleaning and it is stainless steel so there's no need to worry about sticky leftovers or if you have overcooked something and it leaves stains in the pot because you can just wash them away as easy as A, B, C!
#HanabishiMalaysia
#Hanabishi
#Steamboat
#Teppanyaki